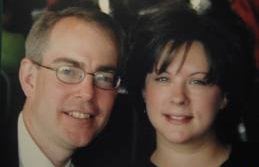 Pastor Jim Frost and his wife, Julie,
have been married 24 years and have 2 children, Devan & Samantha.
Both myself & Julie grew up in northern Maine and met while in junior high. After getting married, I served in the US Army for 8 years. It was during that last year of military service that the Lord called me to preach. I separated from the military and attended Bible college, earning my BA in Theology.
In April of 2010, my family and I started the Solid Rock Baptist Church of Bellefontaine, OH. Many different churches and people worked together to see that SRBC had a great start. The last few years have been showered with blessings as the Lord leads folks to be a part of our SRBC family. We invite you to visit one of our services and pray that you feel welcome and are blessed by the friendliness of our folks, the music, and the message.
If you have any questions or if I can be of help to you spiritually, please do not hesitate to call.
Sincerely,
Pastor & Mrs. James R. Frost

"From the end of the earth will I cry unto thee, when my heart is overwhelmed: lead me to the rock that is higher than I." Psalm 61:2