Here at Solid Rock Baptist Church
many people are finding hope, encouragement, and discovering God's purpose for their life in our uplifting weekly services. We invite you to join us!
When are the services?
Sunday School classes for all ages begin at 10:00 am, followed by the morning service at 11:00 am. During the morning service time there is a Jr. Church service available for children, ages 4 years old through the 6th grade, as well as a nursery for infants through age 3.
The Sunday evening service at 6:00 p.m. is a highlight for many. Always encouraging and challenging, it is a special time that you will not want to miss!
The Wednesday evening service starts at 7:00 p.m. and begins with a sweet time of prayer, as a congregation, followed by the message. It is during our midweek service that children, age 4 years through the 6th grade, participate in the King's Kids program.
What should I wear?
The truth of the matter is, there is no strict dress code for our public services! We want you to be comfortable and ready to concentrate on the message of God's Word. Many in attendance will be wearing their "Sunday best" - the men in dress shirts and dress slacks, typically with a tie, and the women in appropriate dresses.
What are the services like?
Although there are many things that are wrong in this world, we believe that our God is alive and well. He is a living Saviour, and we worship Him with an attitude of victory and thankfulness! The choir typically will open the service with an exciting and uplifting chorus, and then the congregation will join in singing several of the great hymns found in the old-fashioned song book.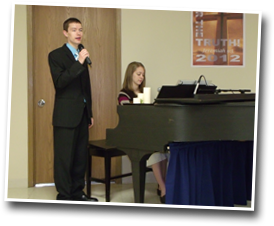 Special music, sung by a variety of church members, has been specifically selected to prepare our hearts for the preaching of God's Word. You will find these songs to be spiritually challenging and uplifting as they bring honor and glory to our Lord Jesus Christ.
Prayer is a major part of the services here at SRBC. We believe that God does everything in answer to prayer. A special time is specifically set aside 30 minutes before our Wednesday evening service for those who wish to come early and pray in the designated prayer rooms. If you have a specific prayer request, we would love for you to let us know so we can join you in prayer.
God's Word is the answer to every problem we face. We believe that Bible preaching is the most important part of every service. God's Word has the power to comfort, correct, instruct and fix any situation. Our preacher, Pastor Frost, has committed his life to practicing and promoting the old-time religion. We make no apology for preaching the truth in love.

At the end of the preaching time, Pastor Frost will ask everyone to stand and will give an invitation. This is a time many respond and make life-changing decisions by walking down the aisle and praying at the altar. Whatever your decision may be, the altar is open to you to join others who are making decisions for Christ.
Come Join Us For One Of Our Services!